Jersey Shore is coming to Italy
Sources connected to the show tell us they will be scouting locations in Italy – similar to the way they did it in Miami – to find the right locale.

One source connected with the show says they've already lined up some of Vinny's Italian relatives to host the "Jersey" crew for an authentic Guadagnino dinner.
# Jan 25, 2011
We'd just been talking about how much we're going to miss living in Rome. Now this happens.
According to a story in La Repubblica, under Italian law, Youtube and other similar sites, such as DailyMotion, are now considered TV stations (bizarre English translation here).
What does this mean? Well, naturally it means a tax (this is Italy, after all - some money has got to change hands). It also means that these sites will be obliged to prohibit access to content inappropriate for children in certain time slots. More importantly though, it means that the sites are now legally responsible for all user-content uploaded to them, meaning that if some half-senile old fuck who controls half the media in the country finds some of their content on there, he finally has someone to sue.
I have to be honest, if the owners of these sites decide that the easiest way to solve all these problems is to just block access from Italy entirely, I wouldn't even be slightly surprised. That guy from YouReporter.it nailed it: "This is a legal absurdity and violence done to reality."
# Jan 1, 2011
View Rome Recommendations in a larger map
Things to See
St. Peter's Basilica
Okay, it's a bit lame and cliched, but this is still a huge part of Roman history that it's hard to ignore. For me, it still towers above the colosseum as an attraction. Search iTunes for Rick Steves Rome Podcasts - he's got some audio guides for some of the bigger sights, like St. Peter's, the Pantheon, the Forum etc. Cheaper (and less lame) than joining a tour.
Pantheon
It was 32 degrees out today. On days like this, it's fantastic to be able to duck into the Pantheon. I've no idea of the science behind it, but somehow this place stays very cool without air conditioning. Plus, you'll be near Tazza d'Oro, which is one of the better coffee shops in Rome. Try their granita, which is like a coffee slush puppy. Get it with whipped cream and then spend the next few minutes mixing it all together to make a coffee milkshake. You'll be buzzing for hours.
Musem of the Holy Souls in Purgatory
I only read about this recently on atlasobscura.com, so I haven't had a chance to check it out yet. It's a museum of relics that were 'burned' by souls in purgatory. It all sounds a bit cheesy, but still pretty interesting. It's also in/near one of the few (neo-)gothic churches in Rome.
Capuchin Church of the Immaculate Conception - Via Vittorio Veneto, 27
I've been to the catacombs in Paris, and I've thought "what kind of sick fuck decides to arrange skulls in the shape of a heart?" Then I visited this place and it beats the pants off anything Paris has to offer in terms of dementedness. Bones of more than 4,000 monks have been arranged into a series of scenes and dioramas, where EVERYTHING is made of bones. They even have chandeliers made of bones. Chairs made of bones. Light switches made of bones. Very macabre. If there was ever a goth Disneyland, this is it.
Church of San Clemente, Via Labicana
If you ever want proof that Rome is a 'living' history, you should go to visit San Clemente. It's a twelfth-century church, built on a fourth-century basilica, built on a pagan temple. They've all been really well preserved and it's another fantastic place to duck in to avoid the mid-afternoon heat, especially if you're already up that area checking out the Colosseum.
To eat/drink
Le Mani in Pasta - Via Dei Genovesi, 37
This is more of an upmarket pasta joint. It's a little more expensive than the normal places (still ridiculously cheap though), but believe me, if you've got something to celebrate, this is worth it. It's like a once-in-a-while treat for us. Very seafood heavy. When I go there, I usually get the carpaccio of swordfish with truffles, then the fettucine with ricotta and pancetta (if you get this, immediately mix everything up on your plate, trust me) and then if I'm feeling particularly hungry or decadent, I'd get maybe a fillet with green pepper sauce. Also, their desserts are great - the chocolate cake is my favourite, closely followed by their amaro semifreddo.
Da Augusto - Piazza de' Renzi, 15
Classic Roman trattoria, filled with grumpy waiters. Get there early (8pm) to avoid the lines, because seriously, this is one of my favourite places in Rome. Their stuff is cheap, and tastes great. They don't always give you a menu, so here's my advice - get the pasta con cacio e pepe (cheese and pepper) to start (mix it up a bit to get the flavours going), then follow it with either the strachetti e rugola (thin slices of beef with rocket) or, my favourite, the involtini (rolled veal in a tomato sauce). Actually, get two involtini. You'll thank me later.
Roma Sparita - Piazza di Santa Cecilia
So good, I had to give it a blog post of its own. Currently my favourite restaurant in all of Rome.
Da Enzo - Via dei Vascellari, 29
Another trattoria. Extremely popular with the Romans (again, turn up early to avoid the lines), but to be honest, I've never really seen the appeal. They do a fair carbonara, but I could really take or leave this place.
Da I 2 Ciccioni - Vicolo del Cedra, 3
"The Two Fat Lads" - it's less a restaurant and more just a bunch of tables on the street outside someone's kitchen, along with their grumpy old dog, Aldo. They do a set menu for a set price (which varies depending on how many courses you can manage). I suppose it could be seen as a little 'gimmicky', but their fagoli are too good to be very cynical about. Recently got written up in the New York Times, which means it's probably going to be unbearable now.
Dar Poeta - Vicolo del Bologna 45
A pizzeria. Apparently these guys have a 'secret' blend of ingredients that they use to make their pizzas. I say it's a crock of shit because their pizzas are completely unremarkable. BUT, leave plenty of room for their speciality dessert - a Ricotta & Nutella calzone. Terrific stuff.
Fame Nera - Via di San Francesco a Ripa, 29
More of a lunch/snack kind of place. Great sandwiches, but slooooo-o-o-w service. More useful for expats because it's one of the few places you can get a bacon cheeseburger with actual bacon and ACTUAL cheddar (a rare commodity in this town).
Fior Di Luna - Via della Lungaretta 96
Some ice cream shops talk about how all their stuff is home made and there's no preservatives. This place takes this to the next level - you can't even get a cone here, because it's impossible to make those without preservatives, so it's just paper cups. This is probably the best place in Trastevere for ice cream. You can still see the bits of vanilla in their vanilla ice cream. We also refer to this as the "creative commons ice cream place" because they've got a boner for open source.
Freni e Frizioni - Via del Politeama, 4-6
Probably the closest thing Rome will get to a hipster-type dive bar - a converted garage. But what really sells this place is the sheer buzz of people and the amazing apertivi. Just come along, buy a drink (Beers: 5, RIDICULOUSLY STRONG, ON-YOUR ASS DRUNK cocktails: 7) and help yourself from their buffet of amazing veggie treats. The piazza outside is also a great place to do some street drinking and some people watching. Rumour has it that Vincent Cassel and Monica Bellucci own an apartment above this place, which seems like a pretty good seal of approval.
I Suppli - Via di San Francesco a Ripa (opposite Fame Nera)
Again, a snack kind of place. Their pizza is good (especially the marinara and fungi e quattro formaggi), but the real draw of this place is their suppli. Oh boy. Deep-fried rice balls in a tomato sauce with some mozarella in the middle. My favourite guilty pleasure, and this place does the best I've had in Rome.
Ma che siete venuti a fa - Via Benedetta 25
Around the corner from Dar Poeta is this tiny, tiny pub that serves a ton of nice beers. Very popular with students. There's a downstairs, but no-one ever goes there. They just hang out on the street looking cool. The name translates to "But what have you come to do?" which is slightly ominous.
Pizzeria Ai Marmi - Viale Trastevere 53
This is our local pizzeria. They're about middle of the road in terms of price, and service, but their pizzas are pretty good. They also do pretty good suppli and baccala (battered salt cod). I'm not exactly raving about this place because they do nothing exceptional, but they're extremely consistent. And they feel like home now.
Gonfio/Soppieno - Via Borgo Pio, 149
This is a great little sandwich/salad shop halfway up Borgo Pio (the main borgo up bear St. Peter's). Their prices are reasonable and the food is always fantastic. Their 'house' sauce is a bizarre spicy sauce that, strangely for Rome, is actually quite spicy. Great if you want to picnic after a run through St. Peter's.
Latteria - Via Borgo Pio, 48
Almost across the road from Gonfio is the Latteria. It's one of the few bars in this area that aren't actively trying to rip you off at every turn. Great cornetti too. If you're feeling particularly indulgent, go for the white chocolate.
Venerina - Via Vitelleschi Giovanni, 44
Again, another good bar that isn't trying to rip you off. This one is slightly better than the Latteria because it's slightly bigger, has a wider range of food, does the best cornetti in the area, and best of all, isn't on Borgo Pio, so it's less likely to be crowded. Also, this was the only bar open in the area through the month of August.
The Perfect Bun - Largo del Teatro Valle, 4
When you need a break from Italian food, this is a great American-style restaurant. Really good burgers, great nachos (with a fantastic homemade salsa), and decently-priced, cold pints (pints! Not 40cl mockeries!) of Carlsberg. Best of all, they do an amazing buffet-style Sunday brunch. It costs about €25, but it's a lifesaver when you're hung over and need some serious soakage.
Sweety Rome - Via Milano, 48
With the demise of Josephine's Bakery (RIP!), there are precious few places to go and get a decent cupcake or carrot cake in Rome. Hooray for Sweety Rome! Great desserts, and another place for a decent buffet-style Sunday brunch. Might want to phone ahead if you fancy the brunch.
# Jun 21, 2010
I swear, Italy is getting more like Grand Theft Auto every day.
# May 7, 2010
When I moaned about Italian music before, I admitted I hadn't looked very hard to find something good. And, in my defence, it's easy to be a little dismayed when you're bombarded by Michael fuckin' Buble in all the shops. But things are picking up! Here are two songs I like right now.
Tiziano Ferro - E Raffaella è Mia
This guy seems to be like the Italian Robbie Williams, back before Robbie Williams turned into an enormous, pulsating cock. The song is about Raffaella Carrà , an Italian actress and TV host, and its lyrics are really easy to understand ("And Raffaella sings in my house / And Raffaella dances in my house"), so I like that too.
But I'm actually having trouble with the song. Is it catchy in the CSS kind of way, or is it catchy in the Ketchup Song kind of way? Whatever. I'm not ashamed of what I like.
AntiAnti feat. CapaRezza - Picciotti della Benavita
Caparezza (the dude with the giant 'fro) is an Italian rapper. His solo stuff is kinda like System of a Down, which is no bad thing. We've had a hell of a time trying to buy this album on iTunes (which I'm sure I'll blog about soon). Fuckin' twenty-first century my arse.
Interesting comparison: 'Caparezza' on English Wikipedia (18K) 'Caparezza' on Italian Wikipedia (47K)
I'm sure someone with better language skills than me could easily bump their Wikipedia karma by simply translating the Italian page to English.
# Jun 25, 2007
You know, it's getting to the stage where I've got half a mind to rename this blog to "lowbrowcultureshocked".
Today, I was up at the Irish College to get a mass card for an aunt who died recently. To get home, I decided to get the Metro at the Colosseum. Now, I should probably explain that there are two metro lines in Rome. Metro A has been recently revamped and now all the trains and most of the stations are pretty. Metro B, on the other hand, is dingy and ugly. All the trains are covered in graffiti outside and covered in piss and various other bodily fluids inside.
Colosseum is Metro B.
I'm in the station waiting for the Metro to arrive. It's around lunchtime, so there's not a lot of tourists leaving yet - they're all inside the Colosseum, baking and sweating and wearing funny hats. The sign says there's a train in three minutes. I drift back off into the dreamworld I go to when I'm wandering around Rome listening to my iPod (travel tip: this is the only way I have found to not constantly lose my shit at the lack of an orderly queuing system in Italy). Gradually, I start to smell smoke. I'm looking around, a couple of other people are sniffing too. But there's no obvious fire, so no major panic yet. Then we get the buildup of wind that precedes a train coming down the line. Suddenly the train screams past as if it's being chased by the devil himself. It's totally dark except for the one carriage that is completely ablaze.
My mouth was still hanging open by the time the next train arrived. All the Italians shrugged as if this was entirely unremarkable and went back to wearing their giant sunglasses and looking like Hugo Boss models.
# Jun 14, 2007

Our Macbook had been crashing frequently over the past week or so. It would hang randomly when doing minor things, like copying a new program into the Applications folder. Sometimes it would take the computer two or three minutes to get itself together. Other times, it wouldn't get itself together at all and a hard reboot was the only option.
Eventually, I took a look in Disk Utility. The hard drive was listed in red. It told me the disk was dying. I used smartmon to give me more information, and this is where I got the image at the top of this post - my "Reallocated Sector Count" was at 0, and my disk was "FAILING_NOW". I'll spare you the gory details of what this meant, but the shorthand version is "ABANDON SHIP! WOMEN AND CHILDREN FIRST!"
Necessity: the mother of invention
Fortunately, we had a spare laptop hard drive lying around, so that wasn't a major issue. We also had a spare 400GB desktop hard drive, with a USB adaptor. Unfortunately, we only had two power adaptors. Which meant I couldn't power the macbook, the hard drive to be backed up and the hard drive I was backing up to.
We'd bought a bunch of spare power adaptors in the airport before we came but in our excitement, walked off the plane without them - oops.
So for the past month, we've been carefully swapping power adaptors around as needed. The hairdryer, the iron, our phones, the PlayStation, the computers, the wireless router… it got a little silly, but we managed. When I'd google for a place to buy electrical equipment in rome, I'd found that the main place is called "GPL". And Linux has completely ruined that search term.
So when the hard drive began to die, I ran out and didn't stop using my broken Italian and eleborate hand gestures until I came back with a bunch of power adaptors and two-prong figure-eight plugs.
(PS, for anyone searching google for 'electrical equipment' or 'travel adaptors' in Rome, I found a GPL on the corner of Viale delle Milizie and Via Giordano Bruno.)
Backing it all up
I'd heard a lot about SuperDuper, an application for backing up your Mac. A lot of people have said how it saved their necks, so that was the first thing I tried.
Unfortunately, it's not so good for saving your neck when your hard drive is already on the way out. When it encounters a bad block on the disk (and your disk can't replace the bad block, as mine couldn't), SuperDuper will try a bunch of methods to access the data and then crap out. It throws its hands up in the air, shouts "I can't work with these amateurs" and goes back to its trailer.
Tar wasn't much better. In the end, I created a disk image on the 400GB hard drive and used plain ol' 'cp'. When it came across a bad block, it complained of an I/O error but kept on truckin'.
So now I've got a proper backup, we're working off the spare hard drive (with half the capacity, but it'll do), and I got an RMA from the hard drive manufacturer.
Hopefully things will be back to normal next week.
# Jun 12, 2007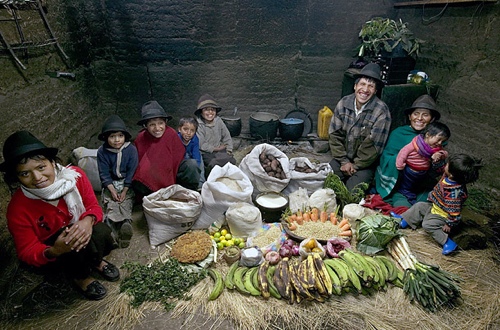 I'm pretty sure this is old news, but Time Magazine is running excerpts of the book "Hungry Planet: What the World Eats" on its website.
My favourite is the Ayme family from Ecuador, pictured above. It makes me wonder: are pork pie hats mandatory in Ecuador? If so, I'm booking a flight today.
This is my pork pie hat. There are many like it, but this one is MINE. My pork pie hat is my best friend. It is my life. I must master it as I must master my life. My pork pie hat without me is useless. Without my pork pie hat, I am useless.
One thing that's concerning me is the lack of processed foods in that picture. Surely they'd have a Subway or a McDonalds or something? Maybe one of those sacks is just full of spice burgers, I dunno.
Quick confession: A few days ago, I actually Googled "KFC Rome Italy". I am weak.
# Jun 9, 2007
Four weeks ago: Working at a computer for twelve hours a day, I'd go home and watch some really shit movie until the early hours of the morning. I'd go to sleep full of junk food and self-loathing.
Today: After Italian class, I walked home in the sunshine, sat down beside the Pantheon and finished the Agatha Christie book I'd been reading (I'm 28 and never had time to read Agatha Christie before). Then I went home, ironed my girlfriend's suit pants and monogrammed handkerchief, and got myself ready for dinner with the Irish president.
I don't feel very different.
# Jun 1, 2007
This week, I started an Italian language course which has really been helping me settle in. My pidgin Italian is starting to develop some structure (for 'structure' read 'actual verbs instead of grunts where verbs should be') and I'm a lot more confident in dealing with people now that I have a better idea of what they're saying.
Something I'm discovering is just how much you can learn a lot about a country from its insults. For example, one of the worst insults you can throw at someone in Italian is Cornuto, which means "cuckold". You'll hear this a lot in football games, Arbitore Cornuto! ("The Referee is a Cuckold!"). The other major insults include "ugly" and "homosexual". There are loads of other, smaller ones, but these three - 'cuckold', 'ugly', 'homosexual' - are the ones that are likely to send an Italian into a rage and are usually saved for when someone has really pissed you off.
Maybe it's the armchair psychologist in me, but I think this says a lot about the insecurities of Italian people.
Similarly, you can also learn a lot about a country from its advertisements. From what I've seen here, most ads seem to revolve around crime. For the most part, the 'crimes' are innocent enough. Like the TV ad that has a woman driver pleading with male driver to let her take his parking spot. She shows him her broken shoes, puts on her best puppy-dog face and the guy lets her in. Once she's parked, she gets out of the car in - wouldn't you know it? - perfect shoes.
But they're not all so cute and cheerful. Adidas recently launched a shoe that has interchangeable gel pads in the soles. These come in all sorts of designs and aren't really taking off here. The print ad shows a guy hiding from the police while quickly swapping his gel pads for ones of a different design.
And of course, there's the other major source of advertising inspiration: sex. At worst, back home, these hover around the 'saucy' end of the scale. Here, they're positively explicit. Here's an example:
It's for a water park in Rome, but it took me ages to realise there was a water park in the picture too. The caption says "Slide with me" although, to me, it will always say "Come to aquapiper and you'll get to have sex with me!"
(My favourite part of the ad is the "Bambini Gratis!" down the bottom, because the rest of the ad doesn't make it look like somewhere I'd want to bring a child.)
# May 31, 2007