Stumbled across two articles about Steven Spielberg this morning.
The first comes from IGN, who discuss an interview he gave to the Hollywood Reporter, in which he says
A good movie will bring you inside of itself just by the sheer brilliance of the director/writer/production staff, but in the future, you will physically be inside the experience, which will surround you top, bottom, on all sides... I've invented it, but because patent is pending, I can't discuss it right now.
The second comes from the BBC, who report that Spielberg has signed a deal to work with EA on three games. From the article:
Steven Spielberg, who worked his magic with ET, is now looking do the same with games giant EA.

The acclaimed film director has agreed to develop three original games with EA's Los Angeles studios.

Work has already started on the first of the three projects, which EA says will be a next generation game which appeals to a broad audience.
Perhaps the two are related, perhaps not. Anyway, let's hope the results are a little more like The Dig, and a little less like The E.T. video game.
Technorati Tags: Games, Spielberg, Movies
# Oct 14, 2005
Positioning itself as a 'true' marriage of narrative and interactivity, and promising a different experience each time it's played, Fahrenheit has a lot to live up to. It's a shame then that the game comes off something more like a "Choose Your Own Adventure" for the 21st century, except perhaps slightly clunkier.
Early on, the game seems to deliver on many of its promises. The initial flurry of interactivity appears impressive and leaves the player with high hopes for the rest of the game. Unfortunately, this is not the case. Regardless of what choices the player makes, the game remains largely unaffected. The game provides the illusion of a branching storyline where the players' choices open new paths, but in truth there is just One True Path. This is most obviously demonstrated early on with the option to save a child who has just fallen into a frozen lake, with the police approaching. Choose to save the child and run away, the police find you - continue from last save. Save the child and run away in a different direction, and the police still find you (with the same cut-scene) - continue from last save. On my third attempt, I finally saw what the game wanted me to do. And it's this distinction that holds the game back: it's about what the game wants to do, not what the player wants to do.
In a recent interview, Ron Gilbert (creator of Monkey Island) condemned the idea of 'interactive storytelling', saying
...I don't believe stories should be interactive. I believe stories should be _participatory_... You're participating in my story, but you're not going to change it, because it's _my_ story. I have a story to tell you.
This makes a lot of sense, and Fahrenheit sits a lot better as a "participatory story." Hackneyed script aside, it's as immersive a game as I've ever played, and it's quite capable of tearing away a few hours at a time, while comfortably providing plenty of opportunities to duck out of the game: a feature I wish more games provided.
Technorati Tags: Fahrenheit, Games, Reviews
# Sep 23, 2005
Well, here's one thing I missed: Nintendo unveiled the controller for their next-generation console, the Revolution, over the weekend. And it looks… well… it looks different. It looks blocky and basic - like an extremely simplistic DVD remote control.
But it's not the looks that matter. If the DS has taught Nintendo nothing else, it's taught them that they can sidestep the Xbox 360 vs Playstation 3 one-upmanship and make innovative, entertaining games by exploring other possibilities - shifting the emphasis from the "games" to "playing." What's more, it's taught them that these games can be made for a fraction of the budget of games on other platforms.
This seems to be a lesson that they've learned well. Although the Revolution will certainly be powerful enough to churn out some staggering amount of polygons, it seems as if a lot of the emphasis will be on small 'parlour games', a la Wario Ware or Mario Party. Things like EyeToy and Singstar were great ideas and encouraged a lot of people to play games that wouldn't normally because they were easy to pick-up-and-play - a quick burst of fun, rather than an epic challenge. But because these were niche accessories, they weren't catered for to any great extent. Since this is the primary controller for the new Nintendo console, there's no fear of it being relegated to that sort of niche status.
And this is the other important lesson here: games have, essentially, plateaued. Let me explain. My girlfriend is someone who has never played games, and she's not going to start now. It's not because she doesn't like games, she does. She recently completed and enjoyed Silent Hill 2, but only through a system where she took on the puzzle/exploration parts, and threw the controller at me for action parts, or anything that required precise control. And that's the lesson here: unfamiliarity with controllers is a major barrier to entry for new gamers. Once again, we can give the example of EyeToy as an example of something that worked because people could play it without requiring the type of muscle-memory that gamers have built up through years of practice.
But Nintendo aren't just courting a new market with this idea. With this new controller, it opens a whole range of possibilities for people who are more familiar with games to engage them with new a new way to experience familiar games. For example, playing First Person Shooters like Doom 3 with the long, remote control-style stick acting as your gun or torch and direction controlled by the analog thumbstick. According to the IGN hands-on, this set-up is more intuitive than any currently-existing system.
But all this yapping won't really do much good. For a much better glimpse of what Nintendo have in mind, you should check out their promo video, which gives you an idea of the various uses for the controller.
I can't wait to get my hands on it.
Technorati Tags: Games, Nintendo, Revolution
# Sep 19, 2005
On Friday, I took off out to Wicklow for a wedding, and I come back today with a bruised liver, a slightly soiled suit, an ingrown toenail and mild constipation from the amount of rich food and drink I consumed over the past three days.
Three days kicking it around Greystones and Glendalough. Three days of sitting around Glendalough House, getting drunk on champagne and canapes, going for naps in the library. Three days of hanging out with people I only knew from their various neuroses. Three days of feeling like Uncle Monty.
It's so nice to be back to normality. Don't get me wrong, this was by far the most interesting party I've ever been to, never once veering towards "dull", and I loved spending a few days feeling like a member of the landed gentry, but by 10pm on Saturday I was ready to kill someone for a Diet Coke that didn't have alcohol in it.
So, what have I missed?
Technorati Tags: glendalough, Ireland, personal
# Sep 19, 2005
I'm a huge Terry Gilliam fan. The Criterion edition of Brazil is one of the two DVDs I'm taking with me to the grave (the other being the Book of the Dead edition of Evil Dead). Even the stories of his glorious failures are more interesting than most people's movies, as seen by Lost in La Mancha.
And that's why his latest release, The Brothers Grimm, has me worried. So far, it has not been particularly well received by audiences in America, gathering an unimpressive 5.9/10 on IMDB - making this his lowest-ranking film yet. What's more, it hasn't been well received by critics either. Some of the reviews on Rottentomatoes paint a pretty grim (if you'll excuse the pun) picture.
But what's most worrying is Gilliam's counter-reaction; he has labelled the film's critics as "narrow minded", even going so far as to say ""Everybody has their opinion - and some people are wrong."
Of course, there's no way I'm going to miss The Brothers Grimm when it opens here on November 4th, and I really hope I'm going to love it. But it certainly carries a certain amount of baggage, knowing that if I don't like it, I'm "wrong."
Technorati Tags: Gilliam, Movies
# Sep 8, 2005
Nearly four months after moving in, we're nearing the end of our broadband saga. Smart sent us our modem and login details. So, I plugged the phone into the wall socket in our bedroom - no dialtone. There's another wire coming up through the wall in our living room, presenting Cat 5 - I wired together a socket using the usual combination of blue -> red, white/blue -> green, but to no avail. In desperation, I yanked the face-plate off the wall socket in the bedroom and found that it wasn't actually connected to anything.
Smart were very nice about the whole thing, merely remarking that the whole situation was "very unusual" (a very diplomatic way of saying "My word, you're a moron for not checking this earlier").
Either way, Eircom engineers are on their way out to us and we should be hooked up by next week.
# Aug 25, 2005
Spoilers!
Some spoilers included here. But since The Island is Michael Bay's latest Big Dumb Action Movie, am I really spoiling much?
I don't see how I could possibly run a blog called "low brow culture" and not like Michael Bay movies. Sure, he's got all the subtlety of a jackhammer. And sure, his movies are based around explosive set-pieces, but you know what? I don't care. He packs more visceral flourishes into two hours than most directors have managed in their entire careers. And since this is exactly what he's going for, I say fair balls to him.
So, the Island.
I wanted to see this since I first read about it a few months ago. I mean, what's not to love? It's directly lifting pieces from a shedload of movies I love. Logan's Run, THX-1138, the Matrix… Surely, with a bunch of explosions and car chases, The Island would be better than the sum of its parts.
It is. Barely. But what struck me more than anything else was the unrelenting stream of product placement in this movie. Now, I'll be the first to admit I'm not the brightest spark in the fire, and product placement typically whizzes over my head like a jet plane. So, the fact that I'm dedicating an entire blog entry to this just makes me think: Jesus, Michael. Couldn't you have toned it down just a little?
These are all in roughly chronological order. If you spot any more, let me know and I'll add them up here.
Puma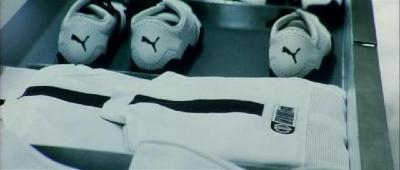 Barely three minutes into the movie, we're greeted with an entire tray of Puma footwear. Lincoln Three-Echo appears to be missing a shoe. Now, this begs a couple of questions.
In a perfect society, where they can detect two people touching, how does a shoe go missing?
In a hermetically sealed world, why bother with branding at all?
---
Aquafina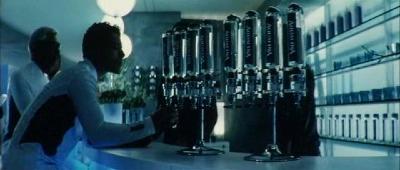 Oh, how very droll. But this just brings up the issue of Question 2 again.
---
Xbox
Now, this is just baffling.
The movie is set in 2017 (or so). And yet they use the old Xbox logo. The one that got retired in 2004, and is being replaced by the new Xbox 360 one.
Within the story - Sean Bean proclaims how he keeps the products docile and without emotion. What possible purpose could there be for a game room that encourages fighting between fully 3D holographic representations of the characters? Don't they know videogames are bad for you?
---
MSN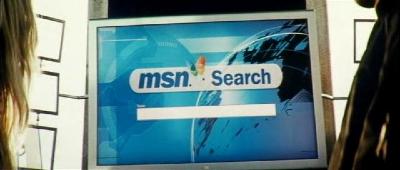 The nerd in me just wants to snort at the idea of MSN Search powering a city's telephone system.
---
Microsoft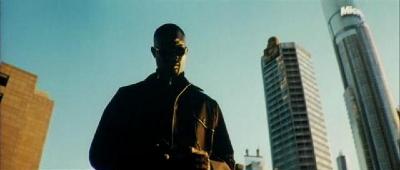 For me, this makes the least sense. If you look carefully, you can probably make out the Microsoft logo on the building in the background. I'm not sure if this building exists or not (I'm doubting it does), but either way, this is most certainly a deliberate inclusion. But it only appears on the screen for a fraction of a second - whizzing by far too fast for most people to notice.
Except those poring over every frame, looking for product placement, of course.
---
Johnny Rockets
---
Calvin Klien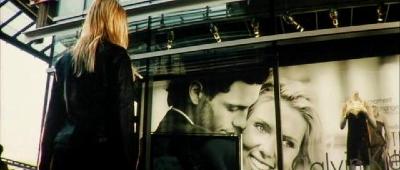 This is either the most galling of the lot: having an actual ad play within the movie, or a really nifty post-modern idea using an actual Scarlett Johansson in a movie where she plays her clone. I'll give the filmmakers the benefit of the doubt and say it's the latter.
---
Michelob Light
Michelob recently launched "Michelob Light in an Aluminium Bottle." Here it is. In the movie, it looks even more like a straight-out advertisment. The bottle provides the only colour in the scenes it's featured in, as the camera reverentially zooms and pans its way around the bottle.
---
Nokia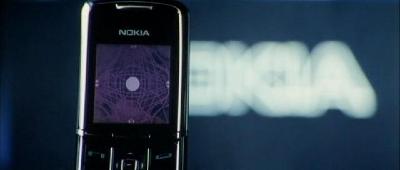 # Aug 21, 2005
Samuel L. Jackson is one of the heroes of lowbrowculture, for the simple reason that he's not too proud to take an awful job to pay some bills, or simply because he likes the sound of it.
In the next couple of years, he's got two movies coming out that have grabbed my attention. The first is "Afrosamurai", which tells the story of a Samurai who "seeks revenge on those who murdered hiss father in front of him when he was just a boy." The other is "Pacific Air Flight 121." Don't let the dull title scare you off, it's soon to be changed back to its much more impressive title of "Snakes on a Plane." The plot outline reads "On board a flight over the Pacific Ocean, an assassin, bent on killing a passenger who's a witness in protective custody, let loose a crate full of deadly snakes."
Collider.com recently published an interview with Jackson where he talks about the movie.
Beaks: One of those films that you're working on right now is… well, it's called "Pacific Air 121"
Jackson: Snakes on a Plane, man!
Beaks: Exactly.
Jackson: We're totally changing that back. That's the only reason I took the job: I read the title.
Beaks: Snakes on a Plane! That's everything!
Jackson: You either want to see that, or you don't.
Beaks: And how are those snakes? Besides being on a plane?
Jackson: Some of them are aggressive, some of them are cool. They're interesting to watch, and interesting to interact with. It depends on what kind of snake it is. One day, it took, like, four guys to bring in this 350 lb. Burmese Python. We were all like, "Where's that goin'?" And I watched an Albino Cobra strike airplane seats the other day. I watched it from another studio. It's actually been a fun show. But we're taking the name back!
Samuel L. Jackson, we salute you.
# Aug 17, 2005
In just under an hour, I'm leaving Dublin and heading to sunny Sligo for a weekend's surfing and camping. According to Met Eireann, it's going to be rainy and windy (42km/h). Perfect for the surfing part of the weekend, not so great for the camping part.
For the rain-delay parts, I'm bringing a few things to read:
Of course, there's a very good chance I could die out there. Whether it's from exposure, or at the hands of a crazed, knife-wielding maniac. Or maybe even in a really nonsensical, over-hyped way, Blair Witch-style. Or perhaps just from embarassment as I make a complete ass of myself on a surfboard.
Either way, if I don't make it back, avenge my death.
# Aug 12, 2005
There's a discussion on Thumped about the merits of 'visuals' at gigs/shows. Personally speaking, I'm all in favour of some sort of visual show to accompany the music, especially when the music of the particularly chin-stroking variety. Although I can see where many people's complaints are coming from: it gets very tiring seeing the same handful of movies being chopped up to make a visual backdrop.
So that's why I think something like EffecTV is such a good idea. Armed with a computer running Linux and a webcam, you can create some pretty interesting visuals in real-time, for a tiny, tiny budget. Installation (on Ubuntu, at least) was a snap. And it goes some way to providing a middle-ground for the people who don't want to spend the night looking at a DJ nodding his head and people who don't want to see the same old stock footage soaked in irony.
Here's a shot of me playing with it earlier - not mind-blowing, but bear in mind that this was being displayed on my desktop in real time.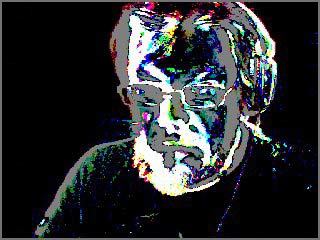 Side-note: Jesus, I really need to trim my beard.
# Jul 28, 2005